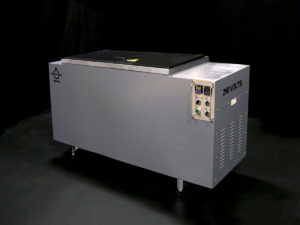 Super Pro Ultrasonic Cleaner
The Omega Super Pro is a powerful industrial ultrasonic cleaner with a 45-gallon ultrasonic cleaning tank and some of the highest ultrasonic cleaning power-to-volume ratios in the industry. This unit is a real workhorse and can power through much of your ultrasonic cleaning needs. Digital ultrasonic control, digital temperature control and filtration are all standards on this unit. Clients in the petrochemical, engine building, mining, oil and gas drilling industries use this ultrasonic parts washer to remove, grease, dirt, carbon and more during their maintenance protocols.

038i has all the same physical features as the Omega Super Pro with the exception of the overflow weir. It can be customized to your ultrasonic power needs, ensuring you don't pay for more ultrasonic cleaning action then you need. The 5038i ultrasonic cleaner can be built with either 2000 or 3000 watts peak ultrasound. Lighter cleaning applications, like removing cutting fluids or light oils from a variety of machined parts. The flat bottom design makes cleaning the tank very easy, with no transducers to clean around.
Unique Features
Portable
Heated
Dual cartridge filtration system
4" weir
Digital controls
Ultrasonic Power: 4000 Watts Peak
1 phase/ 208-240 VAC/ 20 Amp
Tank Dimensions
34" length x 18" width x 14" working depth 20" overall depth
Overall Dimensions
61" length x 21" width x 34" height
Gallons
Model