3d & Additive Manufacturing

3D & Additive Manufacturing

Success Story

Stratasys Direct Manufacturing, the largest dedicated North American provider of additive manufacturing and 3D printing, experienced their ROI in less than four months after using Omegasonics ultrasonic technology. The Result: Parts are getting to their clients up to 24 hours faster than ever before.

Learn More

---

Ultrasonic Cleaners for 3D and Additive Manufacturing: All Products

| | | |
| --- | --- | --- |
| 20 Gallons | 187 Gallons | 5 Gallons |

---

Ultrasonic Cleaners: Cleaning 3D Printed Parts

Parts manufactured by the 3D printing process can take advantage of ultrasonic cleaners to expedite the cleaning and finishing stages after a part is printed. Very intricate and delicate objects, as well as complex tools and machines, can be printed with 3D printers, but require a special material.

Learn More

Aerospace & Defense

Aerospace & Defense

Success Story

Eaton Aerospace based in Jackson, Michigan, has been making critical parts for sophisticated aircraft since 1940. They asked Omegasonics to provide a customized retrofit package to clean their uniquely shaped and sized hydraulic tubes. The Result: Eaton Aerospace has saved 20 hours of labor each week since using Omegasonics ultrasonic technology.

Learn More

---

Ultrasonic Cleaners for Aerospace and Defense: All Products

| | | |
| --- | --- | --- |
| 45 Gallons | 80 Gallons | 110 Gallons |

---

Ultrasonic Precision Cleaning for Aerospace Safety

Ultrasonic cleaning allows aerospace parts to be cleaned in minutes instead of hours, and with a minimum of effort. Not only do ultrasonic cleaners clean thoroughly, they also clean gently, which extends the life of aerospace parts and keeps them from weakening or being damaged.

Learn More

Bicycle Components

Bicycle Components

Overview

Ultrasonic cleaners are the newest technology tool employed by bicycle shops throughout the country, because they use soap and water to clean so much faster than hand scrubbing. Cleaning headsets, derailers or rear cassettes is done with one-third the time and effort.

Learn More

---

Ultrasonic Cleaners for Bicycle Components: All Products

| | | |
| --- | --- | --- |
| 3 3/4 Gallons | 7 3/4 Gallons | 187 Gallons |

---

Winter bike cleaning: there's a much better way to clean your cassette

Winter can be a tough time for bike cleaning.The great thing about ultrasonic cleaning is that it thoroughly cleans hidden, interior areas of parts of the cassette, such as down in between the sprockets. And, the cavitation cleaning action is completely safe for metal bike parts.

Learn More

Cannabis

Cannabis

Overview

CBD oil production requires the same cleanliness, documentation and production goals found in food and pharmaceutical industries. Ultrasonic cleaning improves process efficiency, reduces downtime and helps meet government regulations for drug safety.

Learn More

---

Ultrasonic Cleaners for Cannabis: All Products

| | | |
| --- | --- | --- |
| 3 3/4 Gallons | 14 Gallons | 41 Gallons |

---

Solvents vs. Detergents " What's the Difference?

Every industry talks about how they can become more environmentally friendly for the world. But going green isn't just a buzzword. Implementing green practices into businesses such as industrial or precision cleaning is good for your workers, your company, and the environment.

Learn More

Equipment Maintenance

Equipment Maintenance

Overview

Companies ranging from Anheuser -Busch to Cavendish Farms to General Motors look to ultrasonic cleaning technology to keep factory floors pushing product out the back door. Ultrasonic cleaning reduces factory downtime so technicians focus on productivity.

Learn More

---

Ultrasonic Cleaners for Equipment Maintenance: All Products

| | | |
| --- | --- | --- |
| 75 Gallons | 80 Gallons | 110 Gallons |

---

Four Steps To Quality Control with an Ultrasonic Cleaner

It is frustrating when your own internal quality control, or worse a customer's quality control, rejects your parts and sends them back for a remanufacture. Learn the top four ways that an ultrasonic cleaner can reduce the number of rejects that you receive.

Learn More

Firefighter PPE Gear

Firefighter PPE Gear

Success Story

MarKen PPE Restoration specializes in the inspection, cleaning, and repair of personal protective equipment. The company incorporated Omegasonics technology into its PPE services and decreased helmet cleaning time by 75 percent and employee training time by more than 85 percent.

Learn More

---

Ultrasonic Cleaners for Firefighting PPE Gear: All Products

| | | |
| --- | --- | --- |
| 75 Gallons | 108 Gallons | |

---

Cleaning PPE at Half the Price

Cleaning personal protective equipment (PPE) often comes with a high price tag, but failing to properly clean gear could cost even more and present serious health risks. Ultrasonic cleaning eliminates the need to clean and sanitize PPE using expensive and specialized equipment.

Learn More

Food & Drug Manufacturing

Food & Drug Manufacturing

Overview

Equipment used to process or dispense food, supplements and pharmaceuticals, carries great risk to companies and consumers. Omegasonics ultrasonic cleaning technology is used for everything from cleaning impossible-to-reach filling valves, vitamin molds to preparing surgical instruments and implants for surgery.

Learn More

---

Ultrasonic Cleaners for Food and Drug Manufacturing: All Products

| | | |
| --- | --- | --- |
| 41 Gallons | 45 Gallons | 80 Gallons |

---

A new way to clean revolutionizes a French fry plant

See how Omegasonics ultrasonic cleaning technology helps a Canadian frozen foods processor save on production costs and reduce cleaning time by more than 85 percent. Previously, it took a skilled mechanic four hours to clean one of their Ishida bucket scales, Now, a staff member, can clean eight scales in four hours.

Learn More

Government & Defense

Government and Defense

Overview

Our military, can be overwhelmed with essential cleaning that requires many hours just to keep up. The U.S. Navy uses an Omegasonics system on their fleet of ships to clean engine components faster and more effectively, using only EPA-approved solutions.

Learn More

---

Ultrasonic Cleaners for Government and Defense: All Products

| | | |
| --- | --- | --- |
| 75 Gallons | 80 Gallons | 110 Gallons |

---

ROI and Ultrasonic Cleaners

ROI, or Return on Investment isn't hard to figure out when you're looking at at ultrasonic technology purchase. Also known as the "payback period," ROI simply calculates when you'll earn more money from the purchase of a piece of equipment than it cost you to buy it in the first place.

Learn More

Machining & Finishing

Machining & Finishing

Success Story

Pacific Consolidated Industries uses Omegasonic technology to thoroughly clean oil, scale, dirt, grime and carbon from its brass, stainless steel, aluminum and plastic components. The average per system clean has gone from 4 hours to ½ hours and eliminated the need for an IPA rinse.

Learn More

---

Ultrasonic Cleaners for Machining and Finishing: All Products

| | | |
| --- | --- | --- |
| 45 Gallons | 80 Gallons | 110 Gallons |

---

Collateral Benefits of Ultrasonic Cleaning

Campbell's productivity has increased 36 percent since it started using a 5038i ultrasonic cleaner from Omegasonics in December 2014. They attribute this increase to faster and better cleaning results, lower costs associated with the process and increased morale.

Learn More

Marine Transportation

Marine Transportation

Overview

Disney Cruise Lines, BC Ferries and Clovis Marine use Omegasonics ultrasonic cleaning technology to continuously maintain their engines and equipment while out at sea. Cleaning and maintaining components quickly and efficiently is key in extending the life of equipment.

Learn More

---

Ultrasonic Cleaners for Marine Transportation: All Products

| | | |
| --- | --- | --- |
| 45 Gallons | 80 Gallons | 110 Gallons |

---

Why Our Ultrasonic Generators are a Cut Above the Rest

Choosing an Omegasonics generator means getting a dependable, superior product that will meet your all of your needs. Learn more about the role of ultrasonic generators in ultrasonic cleaners, and what makes Omegasonics generators stand out above the competition.

Learn More

Mold and Die Cleaning

Mold & Die Cleaning

Overview

Learn how to eliminate unexpected production delays with an ultrasonic cleaning system that produces cavitation bubbles within a non-toxic solution. This helps extend mold life by cleaning the molds thoroughly without damage, regardless of the shape, size or complexity of the mold, contaminant or mold material.

Learn More

---

Ultrasonic Cleaners for Mold and Die Cleaning: All Products

| | | |
| --- | --- | --- |
| 45 Gallons | 80 Gallons | 110 Gallons |

---

Eliminate Unexpected Production Delays

Learn how to eliminate unexpected production delays with an ultrasonic cleaning system that produces cavitation bubbles within a non-toxic solution. This helps extend mold life by cleaning the molds thoroughly without damage, regardless of the shape, size or complexity of the mold, contaminant or mold material.

Learn More

Musical Instrument Repair

Musical Instrument Repair

Success Story

Paige's Music manages a non-stop cycle of instruments requiring repair and cleaning. With Omegasonics machines they clean more instruments in less than half the time. Instruments that used to take 15-20 minutes to clean are now finished in 3-5 minutes.

Learn More

---

Ultrasonic Cleaners for Musical Instrument Repair: All Products

| | | |
| --- | --- | --- |
| 60 Gallons | 108 Gallons | |

---

Musical Instrument Cleaning with Ultrasonic Cleaners

What if musical instrument cleaning took less than half the time you used to? What if you didn't need to use dangerous chemicals anymore to dissolve grime and gunk? What if you could design a cleaner to meet your specific needs, including one that fits extra large or uniquely shaped instruments.

Learn More

Power Sports

Power Sports

Success Story

All American Harley-Davidson use Omegasonics technology to clean its grimiest and most elaborate parts. Jobs that used to take All American four hours now take an hour. Old cleaning methods that use to require soaking and hand-scrubbing, are a thing of the past.

Learn More

---

Ultrasonic Cleaners for Power Sports: All Products

| | | |
| --- | --- | --- |
| 25 Gallons | 33 Gallons | 45 Gallons |

---

Power Sports: Equipment Cleaning

ATVs, Motorcycles, Snowmobiles and jet skis are fine-tuned machines built for speed. To keep them in top shape requires time and maintenance. Having to strip down a motor and hand clean the parts can be quite a chore. That's where an ultrasonic cleaners comes in handy.

Learn More

Saw Blade Repair

Saw Blade Repair

Success Story

The cleaning process at Anderson Saw Company has changed greatly – It use to start with an overnight soaking in a highly caustic solution and a thorough morning, backbreaking, hazardous hand cleaning. Now it takes less than 30 minutes in an an Omegasonics ultrasonic cleaner.

Learn More

---

Ultrasonic Cleaners for Saw Blade Repair: All Products

| | | |
| --- | --- | --- |
| 33 Gallons | 75 Gallons | |

---

Clean Your Saw Blades with Ultrasonic Saw Blade Cleaning

Ultrasonic cleaning cleans even the toughest grime from the dirtiest blades and features a streamlined process that increases both efficiency and productivity. It requires no soaking or hand cleaning, uses environmentally- and workplace-safe water-based solutions, and requires no prior training.

Learn More

Semiconductors & Electronics

Semiconductor & Electronics

Overview

Semi-conductor manufacturing requires the absolute pinnacle in cleanliness from Class 100 clean rooms to precision ultrasonic cleaners. Ultrasonic cavitation energy touches every single electronic component built in the world on a daily basis.

Learn More

---

Ultrasonic Cleaners for Semiconductor and Electronics: All Products

| | | |
| --- | --- | --- |
| 110 Gallons | | |

---

Ultrasonic Cleaning Frequencies – 68/ 170 kHz

Intricate cleaning applications such as those found in the medical, wafer fabrication, and computer memory industry, require cavitation bubbles to implode more closely to the substrates being cleaned. These cleaning protocols require a higher or more precision degree of cleanliness.

Learn More

Ultrasonic Blind Cleaning

Ultrasonic Blind Cleaning

Overview

Ultrasonic technology is recognized by the industry to be the fastest and most effective method of cleaning blinds. Omegasonics industrial cleaners to clean horizontal and vertical blinds, pleated and honeycomb shades, silhouettes, luminettes, woven woods, faux woods, and traditional venetian.

Learn More

---

Ultrasonic Cleaners for Blind Cleaning: All Products

| | | |
| --- | --- | --- |
| 55 Gallons | 55 Gallons | 55 Gallons |

---

Best Practices for Using Your Ultrasonic Cleaners

Ultrasonic cleaners are phenomenal at cleaning and preparing parts for final assembly or further processing, What you may not know, is that there are some things you should do to optimize your parts cleaner to keep it at peak performance.

Learn More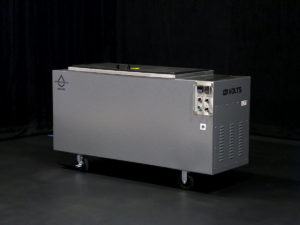 Music Pro Ultrasonic Cleaner
The 60-gallon Music Pro band instrument ultrasonic cleaner cleans all types of brass and woodwind instruments such as saxophones, trumpets and horns. By simply removing the valves and submerging the instrument, all internal passages are thoroughly cleaned within minutes without the hassle of hand cleaning. Music stores are using Omegasonics band instrument ultrasonic cleaners to save time and make more profit with band instrument cleaning.
Unique Features
Low profile
Portable
Digital Controls
Fully insulated for increased heat efficiency and noise reduction
Heated
2000 Watts peak ultrasound
1 Phase / 120 VAC / 20 Amp
Tank Dimensions
38" length x 18" width x 20" depth
Overall Dimensions
61" length x 18" depth x 34" height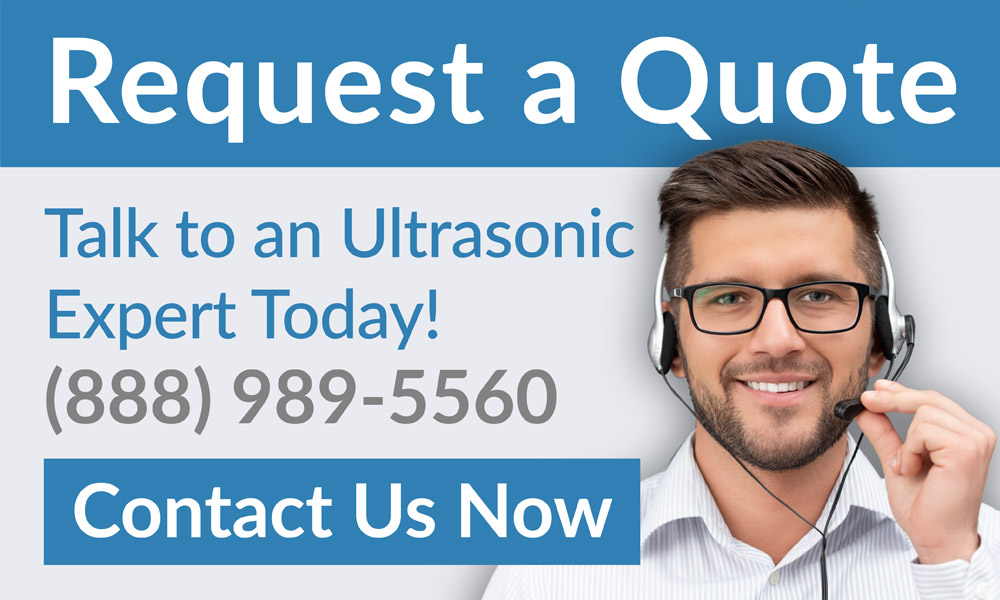 Stay Supplied & Save
Our subscription service delivers the right cleaning solutions when you need them, with significant savings. Add a subscription next time you order soap.
SUBSCRIBE
Sign up for our email list to receive industry updates, offers and more.